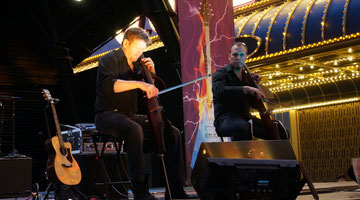 Kennst Du die Band Apocalyptica?
4 Cellos spielen Heavy Metall.
Hier in Las Vegas auf der alten Fremont Sreet, wo Las Vegas begonnen hat, spielen 2 Musiker mit Elektrocellos. Sie covern Metallica, the Who, The Beatles, Jimmy Hendrix etc.
Gegen so ein Cello steht jeder Heavy Metall Guitarist mit abgesägten Hosen da, wie ein Warmduscher...